Garage Door Springs
Back To Our Services
Quick Broken Spring Replacement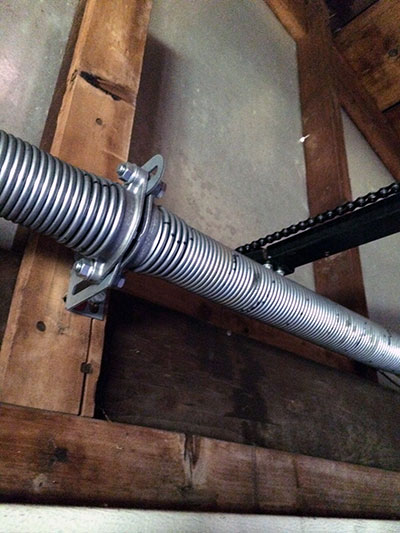 It's usually pretty easy to tell when you have a broken spring. After a loud bang, your garage door will be stuck in place, no matter if you try to open it with the opener or manually. Our job is to replace the spring with a matching one in the shortest time possible. Whether you need a new extension or torsion spring, count on us to install a new component for your overhead door, given its size and weight. Secure and safe fitting and accurate adjustment are fundamental for optimal performance. It is worth noting that the average useful life of a torsion spring is 10,000 cycles while that of an extension one is approximately 5,000 cycles. When you have a clear idea of how many times you run the garage door per day on average, you can estimate around which time the component is likely to break.
Maintaining Torsion Springs
With proper care, these components can perform even better and retain their strength for longer. Our garage door maintenance service involves their testing and adjustment, if needed, plus lubrication. The test is designed to reveal if the amount of force which the torsion spring holds is optimal. If it is too little or too much, we adjust it by winding or unwinding the component respectively. Lubrication is also extremely important as it reduces the friction between the coils. When each coil is properly covered, the spring will work dependably and make a minimal amount of noise. It is worth noting that all garage door springs weaken over time, yet, since it isn't noticeable, it is extremely difficult to predict when a component will break based on visual inspection.
Solving Extension Spring Problems
While these springs don't need lubrication maintenance, they should be checked for damage regularly. If you notice a deformed coil, count on us to solve the problem quickly. We will replace the damaged component with a new one. During the installation, we'll run a safety cable through the spring. This is necessary for preventing its pieces from shooting out in the garage in case of breaking.
Give us, at Garage Door Repair Apache Junction, a call for more information!